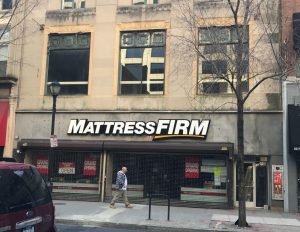 The Mattress Firm Renovation
Job Location: 1722 Chestnut Street, Philadelphia, PA 19122
Santech Construction offers commercial and residential construction services.  We recently completed a total renovation of 1722 Chestnut Street retail location for a new Mattress Firm location.  From tear out, demolition, to painting and touch up, and everything in between, Santech's team handled everything.  Our services as a General Contractor included electric, plumbing, drywall, flooring, lighting, carpentry, and more.  Please contact us for any commercial projects in Philadelphia and the PA suburbs.
Total sqft: approx. 8,280 SF of retail space including 3rd floor and basement
Complete renovation for Landlord – than renovation job for tenant, the mattress firm.
Renovation included everything from electrical, hvac, plumbing, carpentry, and finishes.
First/ Second floor:
Value zone, retail space (Picture in dropbox labeled Value zone for reference)
ADA complaint bathroom
Vault room
Third floor:
Office/ training space for employees
Break area room for employees